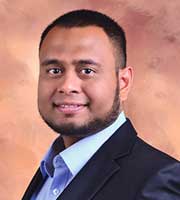 DR. ROMI NOVRIADI, M.SC
Batam Mariculture Development Center
Directorate General of Aquaculture
Ministry of Marine Affairs and Fisheries
Republic of Indonesia
E-mail: novriadiromi@yahoo.com
Mobile/WA: +62 81371959619
---
Dr. Romi Novriadi is the Director for the World Aquaculture Society – Asian Pacific Chapter for 2019 – 2022 and the vice president of Indonesia Aquaculture Society for 2019 – 2024. Dr. Romi also as the senior researcher at the Directorate General of Aquaculture, Ministry of Marine Affairs and Fisheries Republic of Indonesia.  He has published more than 25 peer review research articles in the area of his research interest which include Aquaculture nutrition and aqua-feed formulation, Immunology, aquaculture technology and diseases. In addition, his PhD's Dissertation focus on 'Evaluation of Advanced Soy Products in Diets Fed to Florida Pompano' and master's thesis on 'A toolbox for Immune Parameters of Artemia' provides beneficial information to the aquaculture industry.
In his capacity as a researcher, Dr. Romi has presented research papers as a speaker and keynote speaker at conferences in United States, India, Belgium, Vietnam, Singapore, Malaysia and Australia. He has worked on internship projects in Australia and Thailand on Tropical Marine Finfish Hatcheries and Shrimp development. He was awarded two scholarships, the VLIR-UOS scholarship to pursue his Master of Science in Aquaculture at Ghent University – Belgium and the Fulbright scholarship to pursue his Ph. D in Fisheries and Allied Aquaculture at the Auburn University, Alabama, USA.
Currently, Dr. Romi research focus is to determine the nutritional requirements for marine fish and shrimp as well as facilitate the continued development of commercial rations for use in supplemental feed systems. Dr. Romi is a member of the following professional societies: World Aquaculture Society, Indonesian Network on Fish Health Management (INFHEM), American Fisheries Society-Auburn University Chapter, and Indonesian Aquaculture Society.