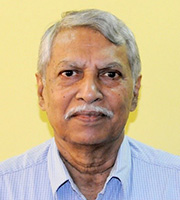 Dr. Dilip Kumar
Aquaculture, Fisheries and Rural Development Adviser
Bihar Animal Sciences University (BASU)
India
---
PROFILE SUMMARY
COMMITMENT | LEADERSHIP | INTEGRITY
A fisheries / aquaculture professional with over thirty five years of exposure and experience while working with national (Indian Council of Agricultural Research, India) and International / Regional organizations (FAO, UNDP, IFAD, UNOPS, NACA) in India, South and Southeast Asian countries and briefly in East African countries in various capacities (Scientist, Project Leader, Associate, Head of Division, Aquaculture Extension and Training Expert, Chief Technical Advisor / Team Leader and Director / Vice Chancellor of Fisheries University). Major assignments and activities ranged from conceptualization, planning and execution of laboratory and field based aquaculture research projects; formulation / execution of fisheries sector-specific development projects covering small-scale aquaculture, artisanal fisheries, community empowerment including CTA of the FAO/UNDP Coastal fisheries project "Empowerment of Coastal Fishing Communities for Livelihood Security"; institutional strengthening in the fisheries sector, preparation of perspective plan for fisheries sector development for Nepal and Indian States of Bihar, Rajsthan; and UP ; fisheries sector policy review in India and developing guiding principles for policy development; review of research and development projects; providing coordination support for research and training for aquaculture development in Asia-Pacific region; to management of fisheries university and development of higher fisherieseducation in India. Worked as the Chairperson of the Working Group on Fisheries for the preparation of XIIth Five Year Fisheries Sector Development Plan for India by the Planning Commission, Government of India. Prepared Vision document and Perspective Plan for the State of Uttar Pradesh of India. Most recently drafted Fisheries and Aquaculture Policy for Nepal on behalf of FAO. Also formulated a FAO Trsut Fund Project "National Aquaculture Development Project" for Nepal. Assigned as Chairman, DBT Task Force on Aquaculture and Marine Biotechnology. Just completed my two years international assignment with FAO as Chief Technical Adviser of FAO Project "NAPA" in Myanmar for formulation of a National Action Plan for poverty alleviation and rural development through agriculture including crops, inland and marine fisheries, aquaculture, livestock, forestry and other cross-cutting theme areas. After completing my assignment as honorary Chairman of Sub-Group "Liestock and Fisheries Insurance"for NITI Ayog and Chairman of Accreditation Sub-Committee of ICAR for Tamil Nadu Fisheries University. Lately, I worked as Chairman, Technical Committee for Drafting National Inland Fiaheries and Aquaculture Policy of India. Currently working as Adviser Assam Fisheries Development Corporation, Assam, India.
STRENGTH
Adequate skills, confidence and comfort in leading team of professionals, promoting organizational development and creating conducive work environment acquired through management of institutions and formulation and execution of a series of field based aquaculture / fisheries projects encompassing action research, development, extension, training, community empowerment and lastely higher fisheries education in India and a number of South Asian and South-East Asian countries. Passion for bringing positive changes in the quality of life of farming and fishing communities through mainstreaming fisheries / aquaculture technologies in their practices. Earning reputation by following uncompromising work ethics, meeting deadlines, concentrating on goals and objectives; and application of modern leadership methods and clarity in communication, transparency and personal inter-relations.
OBJECTIVE
My own agricultural family background and spending initial part of my life among the rural poor communities of Bihar, one of the poorest state of India, has kept my interest and commitment alive for bringing positive changes in the quality of life of rural communities. My personal experience built upon pro-poor ephasis on aquaculture research, development , famers' participated extension system, empowerment of fishing communities through holistic development approaches focussing on sustainable natural resource management and underlining policy interventions have strengthened my confidence. With such a background I am looking for opportunities where I may be able persue my passion further by providing technical expertise in mainstreaming sustainable human development through bringing education and research closer to development. Besides, I would also like to contribute to the development planning in farming sector and developing framework for the monitoring and quality excecution of development projects.
AREAS OF EXPERTISE
Integrated agriculture sector development planning and policy for poverty alleviation and rural development – fisheries, crops, livestock, forestry and other theme areas
Development of guiding principles for fisheries sector policies and desired reforms
Planning, desiging, delivery and management of training, workshops and writeshops
Designing fisheries and aquaculture extension services system
Small-scale and low-cost aquaculture for rural lihood development
Development of field tested aquaculture and fisheries extension strategies and approaches
Empowerment of fishing and farming communities for livelihood security through organising them and facilitating their organisation led sustainable management of natural resources
Management of team / organisation for effective implementation of development projects and producing quality of outputs as per set objectives
Management of institution (university) of higher learning for producing knowledgable, highly skilled and project ready students